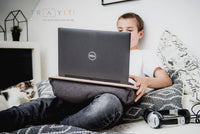 Welcome to TR[A]Y IT!
TR[A]Y IT! is a brand of high quality handcrafted lap trays with a non-slip beanbag pillow that nestles to your lap allowing you to comfortably use a laptop or tablet, do homework, read a book or just enjoy a lazy breakfast on a sofa. These lap trays are also very useful for laptops, because they allow natural ventilation and prevent from overheating.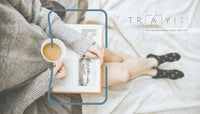 You Never Know Until You Try!
Try this portable desk at home and you will see how comfortable it is. If you like having breakfast or working in bed or any other place than your usual desk, then this is an ideal solution. It`s a practical item to have it around the house, terrace or car. It remains only to choose a design that fits your mood - at TR[A]Y IT! you can find a wide range of designs.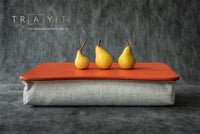 Personal Touch
Perfect craftsmanship, high quality materials and multiple designs - that is what the TR[A]Y IT! team stands for. All trays are made of top quality, durable Baltic birch plywood and high quality fabric. Each of these handcrafed items has its own spirit brought by our craftsmen. You will feel this personal touch! 40 x 31 x 8 cm size and 1kg weight is just what you need for comfortable living.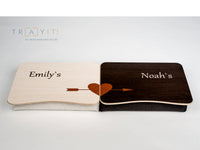 Make It Special
We love to make every item special. Considering the nature of the wood, every tray is unique. But what makes it even more unique - you can have it personalized. Here you can pick a style or let us know your ideas.
https://trayit.eu/collections/make-it-personal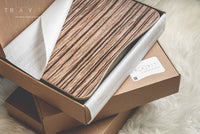 Make a Perfect Gift
We know how hard it is to find a gift for someone "who already has everything". Our trays will be a perfect gift for even the most demanding person. Besides, you do not need to worry about the gift wrapping - the gift box is already included in the parcel you will receive. So, sit back, relax and explore our shop to find the perfect gift!
https://trayit.eu/